Awesome Chiropractic Videos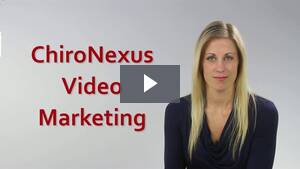 Add our entire library of 81+ videos to your existing chiropractic website...for just $39.95 a month!
Online video is HUGE. People love watching videos, and now you can add a complete library of chiropractic videos to your existing website...in seconds.
We're producing new videos each month and these are automatically added to your website!
Click the links below to browse our current chiropractic videos by topic:
Chiropractic Wellness
About Chiropractic
Non-Surgical Spinal Decompression
Chiropractic and Back Pain
Chiropractic and Neck Pain
Chiropractic and Auto Injuries
Chiropractic and Headache
Chiropractic and Sciatica
Chiropractic and Carpal Tunnel Syndrome
Chiropractic and Knee Pain
Whiplash for Professionals
Use video to get new patients
People come to your website to find answers to their health problems.
By using web video, you accomplish two important goals:
You demonstrate your expertise.
You educate the patient on how chiropractic can help.
ChiroNexus provides the biggest and best library of chiropractic videos available anywhere, and you get to use them right on your website.